Fay Epps MS, CHHC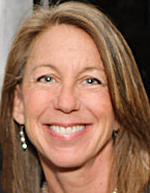 Born and raised in the Los Angeles area, Fay Epps, MS, CHHC graduated from California State University, Northridge where she received her Bachelor's Degree in Biology/Pre-Med. Because of her personal experiences and interest in Preventative Medicine, instead of applying to medical school, she continued her education at California State University, Northridge earning a Master's Degree in Nutrition in 1990. During her graduate studies program, she was selected to be a Peer Wellness Counselor. Through this innovative program, she counseled other students who wanted help in making lifestyle changes and she received training in wellness concepts and counseling techniques. Fay graduated Summa Cum Laude from California State University, Northridge and is a member of Phi Kappa Phi Honor Society. She received additional training as a Health and Wellness Coach from the Institute for Integrative Nutrition's cutting-edge Health Coach Training Program. During this training, she studied many different dietary theories, practical lifestyle management techniques, and innovative coaching methods with some of the world's top health and wellness experts.
Fay has over 25 years of experience working with individuals as well as groups in the areas of Nutrition and Health and Wellness education. She has been teaching Nutrition and Health classes at Los Angeles Mission College since 1999 and has had the privilege of impacting the lives of thousands of students and their families. She is very passionate about empowering individuals to make lasting, life-long behavioral changes so that they can achieve their goals for high-level health and happiness in their own lives.
Prior to working at LA Mission College, Fay owned her own company, FARE WELL Health Promotions, which provided advertising and promotional services for the Natural Food and Products Industry. For several years, Fay was the Director of Education and a counselor at Physician's Weight Loss Center, a high-risk obesity clinic affiliated with UCLA. Fay was also a Natural Childbirth Educator at Westside Birth Services and provided post-partum education and support for moms. She resides in the Los Angeles area and enjoys spending time with her husband of 31 years and her 4 children, 3 dogs, two cats, and a turtle named Franklin. She loves staying active with regular visits to the gym and walks with her dogs, as well as gardening, cooking, reading, and watching movies.
Read more about Fay in her Personal Journey.